UHS CEO Alan B. Miller is dedicated to supporting the military.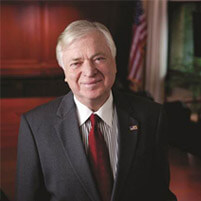 Alan B. Miller, Chairman, CEO and Founder of Universal Health Services, Inc., has made a commitment that the UHS Corporate, Acute Care and Behavioral Health divisions will be at the forefront of providing mental health services to the U.S. military and their families. UHS has initiated successful inpatient and outpatient programs in many of their behavioral health facilities for active military members and veterans returning from deployments. The programs treat combat stress, depression, substance abuse and general anxiety disorders.
Mr. Miller, a former commissioned officer in the U.S. Army, recently received the Patriot Award from Employer Support of the Guard and Reserve (ESGR) on behalf of the U.S. Department of Defense. The award is given to employers who strongly support their National Guard and Reserve personnel.
All members of the National Guard and Reserve forces are eligible to nominate their employers for the Patriot Award. U.S. Navy Commander Milan Moncilovich, who is employed by UHS as Corporate Manager, Medication Safety/Regulatory Compliance, nominated Mr. Miller for the award. Upon receiving the award, Mr. Miller said, "It is a great honor to receive an award for supporting our veterans. I strongly believe that employers in the U.S. should be doing all they can to support their employees who serve in the military."
UHS strongly believes in providing career and employment opportunities to veterans who have recently separated from or who are about to separate from the armed forces. If you're a veteran and are interested in a career in healthcare, explore the opportunities we offer throughout the United States.